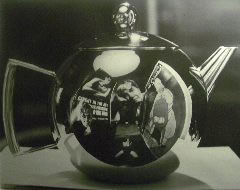 Self-Portrait © Lewis Morley

Lewis Morley was commissioned to take publicity photographs of Joe prior to Entertaining Mr Sloane's transfer and opening in the US.

See some of the portraits of Joe here
Read a longer extract here

Photographer Lewis Morley wrote of Joe in his memoirs 'Black and White Lies'
(ETT Imprint, Sydney 1992)
'Black and White Lies' has the insider view of the swinging sixties, including key figures from London's theatre, film, fashion and music such as Christine Keeler, Joe Orton, Twiggy,
Jean Shrimpton, Michael Caine, Peter O'Toole,
Clint Eastwood, Truffaut and Dali!
For more information on this book visit www.lewismorley.com/books.htm





PORTRAIT OF THE ARTIST AS A YOUNG MAN

I was asked to take some special publicity photographs of Joe. They were to be body-building type shots, as he wanted it to be known that he was the fittest, best built playwright in the western hemisphere. I expected him to arrive with the usual body-building gear that one sees stretched over the highly oiled and over-developed muscles in the body-building magazines. When I was finally confronted by a slim youth, wearing a pair of ever-so-slightly stained Aertex underpants, I was ever-so-slightly shocked.

I had misgivings about Joe's attire. I felt that the underpants would somehow make a joke of his intentions, but he appeared to be perfectly relaxed and completely at ease, exuding the confidence that what he had chosen for the session was absolutely right. I said nothing, feeling that any disapproval from me would be to no avail. It might unsettle and perhaps even hurt him. He did have a streak of vulnerability, I felt, very close to the surface.

It was our first meeting all over again. Joe wanted to be masculine and tough, fleshing out his biceps by pressing them against a closed fist. Lamb posing a ram. No way could he be compared to a marble Hercules, or a tanned Charles Atlas. He was more like the chap who had sand kicked in his face, or, to be fair, the comparison that sprang to mind was that of a Greek bronze of a youth, removing a thorn from his foot.

The session went without a hitch. In between cups of coffee and cigarettes he asked me about the paintings and sculpture hanging around the studio. I told him they were mine and that as I was more successful as a photographer than an artist, I only dabbled in my spare time. It was now a form of relaxation, which helped me to wind down from the business of running a studio.

When Joe came to look at the contacts, he brought with him a large, framed collage, asking my opinion of it and whether I would like it. Not wanting to offend, I declined the offer in my gentlest manner. He said nothing, neither justifying nor defending it. The only reaction was a slight droop of the shoulders. I felt that he wanted approval or at least some constructive criticism and not the lack of a response that I had given. He was pleased with the photos but nothing more was said about the collage and after a final cup of coffee he tucked the picture under his arm and left.

That was the last time I saw Joe although he did drop me a line ordering more prints and adding, 'America hated Sloane. We ran thirteen perfs. Ugh rotten Yanks! Yours Joe. P.S. I'll pay for them naturally'

When I read his diary and saw the film, Prick up Your Ears, I was stunned as well as a little saddened, as my only recollections of him were of a gently spoken youth who housed a hidden sensitivity and vulnerability under the veneer of his brittle, devil-may-care attitude. But that may have been his strength, making use of his facility with words and his acute observations, changing rapidly as the situation demanded - the easy chameleon.

These many years later, knowing what I do now, I can only surmise that the collage was probably done by Kenneth Halliwell, Joe's lover, and that Joe was trying, in some way, to help him.